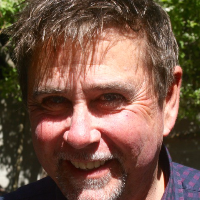 Kenneth Green
Featured Artist | April 2022
Kenneth Green was born in Albuquerque, New Mexico in 1959. He received an M.F.A. from the University of Cincinnati in 1987.
Mr. Green's work has been exhibited throughout the U.S., including galleries at the University of Kentucky, Ohio, and Cincinnati; the Pleiades Gallery in New York; Brian Mahieu in Columbia, Missouri; Olla Padrida in Vail, Colorado; and various public and commercial spaces in New Mexico, where he now resides. His work in the public, corporate, and private collections, including those of the University of Cincinnati, Noon Day Ministries in Albuquerque, and the collection of Sybilla Indermauer of Zug, Switzerland.
Mr. Green has received numerous awards and honors including several Best of Show and First Place prizes in various juried exhibits. He was selected for the 42nd edition of New American Paintings, published by the Open Studios Press of Boston. He was also selected for a full tuition scholarship and granted an assistantship in the University of Cincinnati M.F.A. program.