Known for our eclectic collection, Giacobbe-Fritz Fine Art houses a range of styles within an 1880s rambling adobe building. We welcome both the seasoned collector and those just beginning their collection. Come visit with us and our artists on the iconic Canyon Road in Santa Fe, New Mexico.

We are open everyday 10 - 5pm Sundays 12-5pm. See you soon!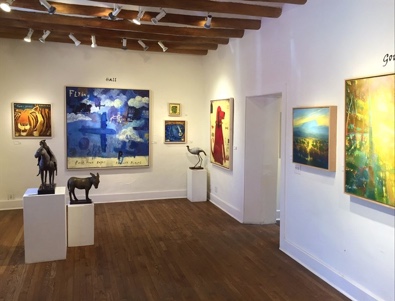 Deborah Fritz: Owner
Gallery owner Deborah Fritz grew up in Los Alamos, New Mexico. At the University of New Mexico, she received a BFA in both Psychology and Art Studio. Her original intent was to work as an artist in Santa Fe but soon she developed entrepreneurial and business directions, resulting in opening her first gallery on Santa Fe's famed Canyon Road in 2001. Giacobbe-Fritz Fine Art a venture with her sister and business partner, Kimberly Giacobbe. Eight years later and with the success of the first gallery, Deborah opened GF Contemporary, also on Canyon Road. In 2018, she opened a third gallery in Santa Fe's Railyard, galleryFRITZ.